Students Giving Back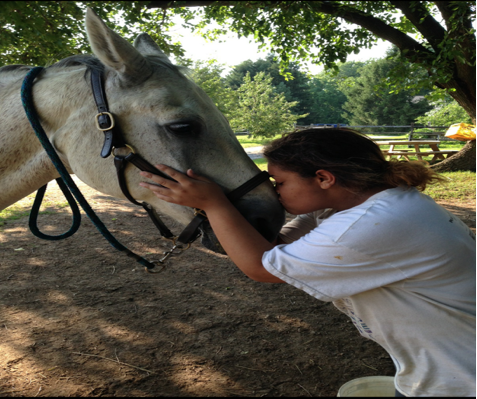 Two DEHS students, Elizabeth Schlosser (11) and Kayla Perham (10), volunteer at Thorncroft Equestrian Center to help out in the barn and the lessons. Thorncroft's mission is to develop the physical and emotional well-being of all people including those with and without  special needs. Thorncroft is committed to personal growth and education in an equestrian environment of respect and love.
People go to Thorncroft because they want to make a change for the community. Liz Schlosser said, "I enjoy helping at Thorncroft because it's so great to make a positive impact on society. When I'm there I know I am doing something productive and positive with my life." She explained that there are so many different types of people there and Thorncroft is almost like a big family. People go to Thorncroft for various reasons.
Some students go to Thorncroft to work as a volunteer. "I started to volunteer at Thorncroft as my gifted independent study course, and I have loved working there ever since," said Liz. Liz sometimes helps side aid disabled people while they ride their horse. She also helps back in the barn whether it is mucking out stalls or getting a horse ready for their lesson. Others may go to Thorncroft to ride and help as a working student.
People ride horses for many reasons. Kayla Perham said, "Riding helps push your abilities and helps you belive in yourself. It also makes you bond with the horse you ride and forces you to trust them." Kayla has been riding and helping at Thorncroft since August of 2015 and loves it there. She has created multiple bonds with some of the horses there.
Being around horses forces people to learn more responsibilities and to care for something else. Kayla said, "I created a great bond with a horse named Patrick. He is a gray Percheron Quarter Horse and he is so sweet and a great ride." Kayla explained the more you are around your horse and spend lots of time with them the horse starts to trust you more.
To some people Thorncroft is home to them. It is a place where everyone can come together and do something good for the community. Thorncroft gives people the opportunity to be themselves and to embrace everything they are.