Athletic Facilities Get an Upgrade at East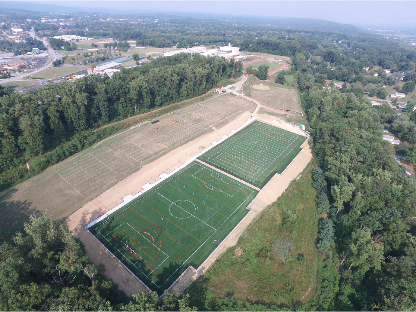 Downingtown East High School is undergoing some athletic changes in their 2015-16 school year. The high school built new turf fields and is remodeling their weight room.
The new turf fields were completed in the first week in October. The new fields have been used for practices, but not yet for home games.
Principal Paul Hurley said, "There were a variety of factors that led us to the purchase of two turf fields." Downingtown East bought the new fields because safety, time, transportation, school pride, and competition advantage.
Mr. Hurley said safety was the number one reason Downingtown East bought the turf fields. Before the turf fields, students had to drive to Downingtown West Campus to practice and have their home games. This reduces the risk of students getting into a car accident.
The new turf fields also allow students to miss less school. Before, students would have to leave school early to go to the West Campus for a home game.
The new turf fields reduce transportation for families. Parents, who have students enrolled in both Downingtown East High School and Lionville Middle School, would have to drive from Downingtown West to pick up their one child, then to the middle school to pick up another child.
With these fields, Downingtown East can show off their school pride. Mr. Hurley said, "Every high school needs an all weather field, and now that we have two. It makes us one of the premier facilities in the league."
Lastly, the new turf fields provide a competitive advantage. With these fields, East students can practice and play both on turf fields, instead of grass fields, which also gives them an advantage.
These fields can be used by any sport teams or gym class that wishes to use it. Soccer player Courtney Dunlop (10) said, "The new turf fields are really nice. I like playing on them a lot. It is so much easier to play soccer on turf rather than grass. It's also nice to be able to play even if it's raining."
The new turf fields are not the only new athletic development to Downingtown East High School this year. The school also plans to remodel their weight room.
The new weight room will be hopefully start sometime within the next two weeks, and be finished before Thanksgiving. This new weight room will include about 75% new equipment, and will also be available for all classes to use. Mr. McComsey, a physical education teacher, who also wrote the physical education curriculum, has helped a lot with this new weight room. He has even designed the layout for the new weight room.
Wrestler Praneethadityaa Ramesh (10) said, "I'm glad we're getting a new weight room. The new weights will be very beneficial to the wrestling team!"
These new athletic changes will help East athletes in doing their very best.